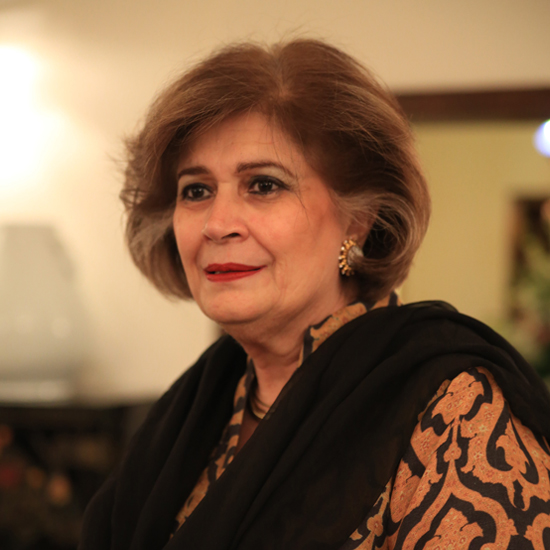 Mrs. Nasreen Mahmud Kasuri
Chairperson,
Beaconhouse Group
Chairperson's Message
It gives me immense pleasure to see Premier DLC, growing and reaching out to scores of teachers from diverse educational and socio-cultural backgrounds.
Having been associated with education for the last 46 years, I have always believed that the key to improving the educational landscape is quality teacher education and educational management training. It was with this vision in mind that the Premier DLC was set up. It is important to put teachers at the heart of any holistic educational reform as they nurture the leaders of tomorrow.
The Beaconhouse Group has played an important role in the provision of education of an international standard in Pakistan. Since its inception in 1975, we have been committed to serving the community by providing education of an international standard at our schools and colleges across the country. We are one of the largest privately-owned school networks in the world, with more than 315,000 students and a highly qualified and dedicated team of teaching faculty.
Trained faculty is a key ingredient to providing quality education. Teacher training and professional development is not a one-time activity and has to be ongoing to provide teachers with the latest in teaching techniques to address ever-changing expectations and challenges.
Beaconhouse has developed in-house expertise in most areas of teacher and student support over the last 46 years. This expertise has now been leveraged to reach out to the education sector at large. Premier DLC has been designed to help government departments, educational NGOs and educational development organizations in providing support in a vast array of educational services. We have a presence in all four provinces of Pakistan and are already working on projects in Sindh, Punjab and Azad Kashmir.
We have been very successful in providing a range of services, including, but not limited to teacher training, curriculum development and student assessments. These interventions have had positive impacts on thousands of schools, teachers and students across Pakistan.
The following pages will provide an overview of what Premier DLC does and has achieved thus far. I look forward to Premier DLC's continued success and invite you to be a part of our journey.
Core Values
Integrity: We are honest, consistent and accountable to the highest level of ethical behavior in all our workings & relationships.
Innovation: We always look for ingenious, creative and transformational approaches.
Diversity: We embrace diversity & exercise tolerance showing sensitivity to different communities & beliefs giving equal opportunities.
Accountability: We practice righteousness and amenability with a commitment to work and high morale & performance.
VISION
Contribute to quality educational and professional development to foster sustainable development
MISSION
Work with diverse social development projects with optimum utilization of resources to mobilize & empower the community for sustainable development