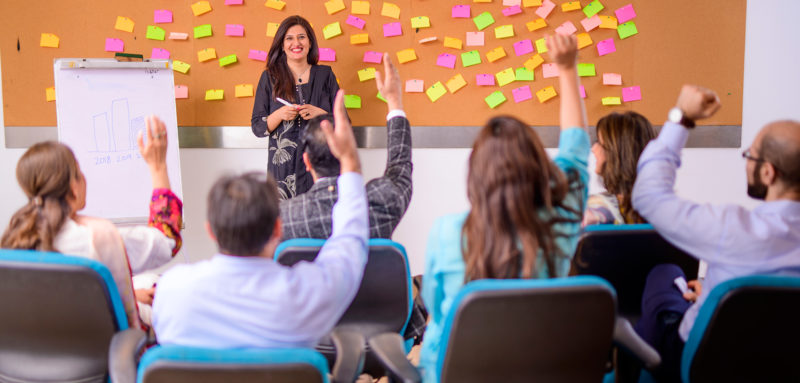 Sindh Education Foundation (SEF)
Training of Head Teachers & School Managers
Premier DLC has been tasked with the training of Head Teachers and School Managers of SEF partner schools in Sindh. This programme will benefit approximately 2,900 professionals across Sindh. We have developed a 12 day and a 7 day training program which consisted of an overview of the roles and responsibilities of the Head Teachers and School Managers.
Training of Master Trainers
Premier DLC was responsible for arranging a 15 day residential program for 70 Master Trainers from SEF. The program was organised in Lahore, Muridke and Karachi and was spread over 2 phases. Phase 1 was targeted towards soft skills for training and general pedagogy and it lasted 5 days. Phase 2 was for 10 days and focused on subject specific trainings for English, Mathematics, General Science and Social Studies.
Training of teachers of SEF supported school
Sindh Education Foundation (SEF), a semi-autonomous arm of the Government of Sindh, is responsible for educating and empowering children & communities towards social change by improving access to educational facilities.
We were responsible for the training 1,800 teachers across Sindh. In order to ensure that the trainings had their desired impact, a stringent monitoring mechanism was also put into place. It was through observations of the participants in the classroom setting that our team was able to gauge the impact that the trainings had and to ensure that the learning objective were being met in the classrooms.
Teach for Change
Through a rigorous recruitment campaign, 80 Teaching Support Associates (TSAs) were hired and then trained across Sindh for SEF. This project was executed in 2017 where over 10,000 applicants applied for the position of TSAs in all districts of Sindh. These candidates were scrutinized through a comprehensive recruitment campaign where they underwent written tests in either English, Mathematics and Science, gave a demonstration on their teaching skills, assessed their confidence and communication skills through in-depth interviews and then gave a final interview to a panel of experts.
The recruitment campaign consisted of roadshows at the recognized universities within Sindh, designed and developed newspaper advertisements, radio campaigning was also held as well as newspaper insertions and posters/pamphlets were distributed at the universities. The placement offices of all universities were given an overview of the job requirement and the benefits to join the organization in the long-run.